On-chain data shows that Bitcoin long-term holders have remained adamant recently as their movements remain at low levels.
Bitcoin Binary CDD Has Continued To Be At Low Values Recently
According to data from the on-chain analytics firm Glassnode, mature coins aren't showing much movement despite the recent volatility in the asset's price. The relevant indicator here is the "Coin Days Destroyed" (CDD), which, to understand the concept of "coin days," needs to be looked at first.
A coin day is a quantity that 1 BTC accumulates when it remains dormant on the blockchain for 1 day. When any coin that has remained dormant for some number of days, and hence, has accumulated some coin days, is finally transferred on the network, its coin days counter naturally resets back to zero.
The coin days that the coin in this example had previously been carrying are said to be "destroyed." The BTC CDD keeps track of the total number of such coin days being destroyed or reset throughout the blockchain on any given day.
The normal version of the CDD isn't the one of interest here, however; a modified version called the "binary CDD" is. This metric compares the current CDD value with the long-term trend.
As its name already suggests, this indicator can only have two values: 0 and 1. When its value is 0, it means the CDD is less than the long-term average right now, while it being equal to 1 implies the CDD is higher at the moment.
Now, here is a chart that shows the trend in the 7-day SMA Bitcoin binary CDD over the last few years: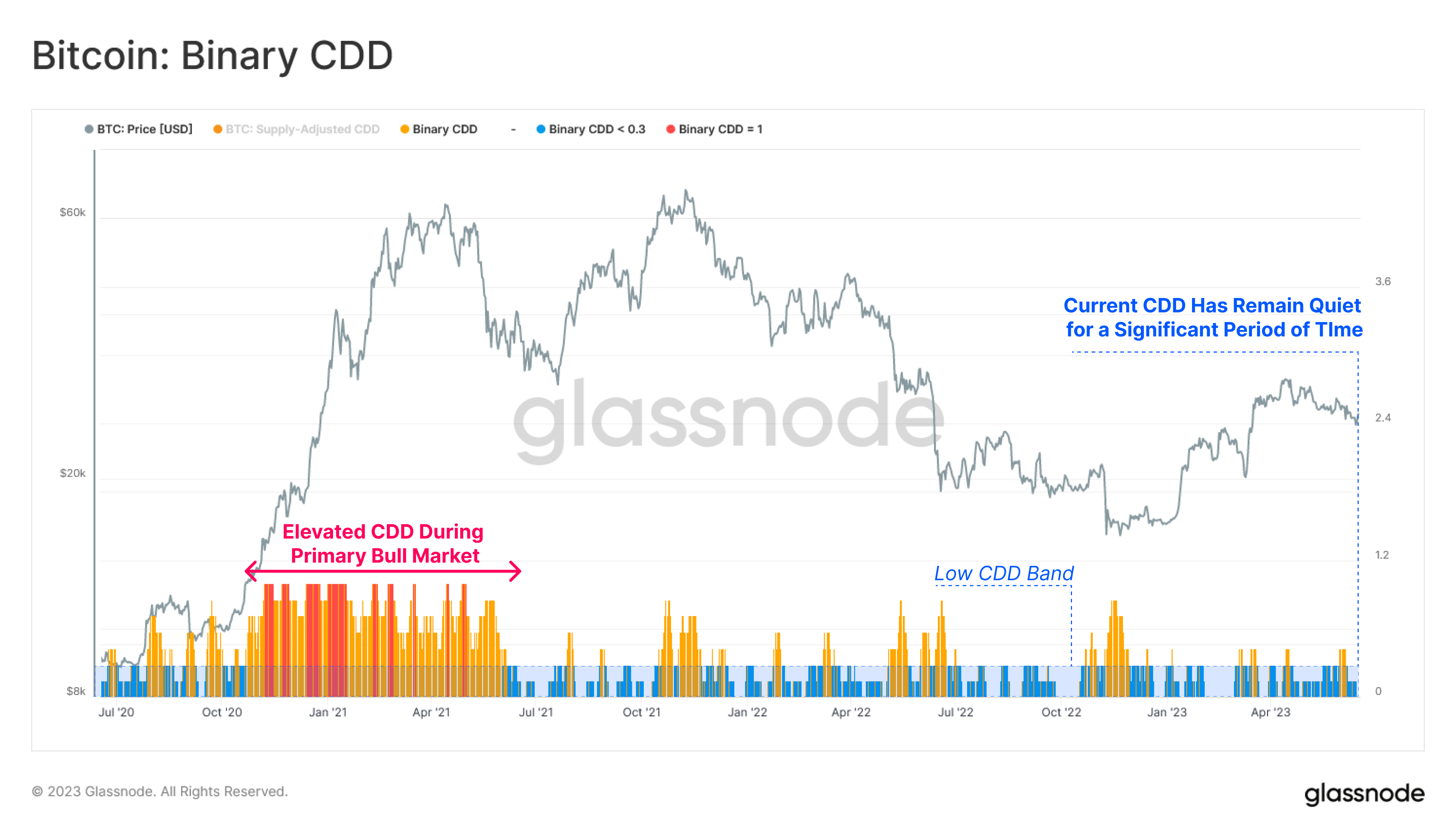 As displayed in the above graph, the 7-day SMA Bitcoin binary CDD has had pretty low values for a while now. This implies that there haven't been many coins with a high age moving recently.
Generally, whenever the CDD has elevated values, it's a sign that the long-term holders (LTHs) are on the move. The LTH group includes all the investors who have been holding their coins since at least 155 days ago.
As these investors tend to stay dormant for long periods, they naturally accumulate large amounts of coin days. Thus, whenever these investors show any significant activity, the CDD spikes as their high numbers of coin days are reset.
From the chart, it's visible that the 7-day SMA Bitcoin binary CDD had been elevated during the bull market in the first half of 2021, suggesting that the LTHs had been participating in profit-taking back then.
In recent months, however, neither the rally nor the recent volatility due to factors like the SEC charges against Binance and Coinbase has been able to force the Bitcoin LTHs into making any significant moves.
BTC Price
At the time of writing, Bitcoin is trading around $26,500, up 2% in the last week.