The Dogecoin price is down around 5% in the last day following the general market crash. The meme coin which had seen improved sentiment did a quick 180 and started to bleed. However, while the Dogecoin price could only be following Bitcoin's descent, are there other factors driving the decline?
Why Is Dogecoin Price Falling?
One reason that the Dogecoin price is down today is due to its proximity to Shiba Inu. The latter saw a highly anticipated Shibarium launch go awry on Wednesday, sparking rapid declines among the meme coins in its ecosystem.
As a result of this unfortunate event, the price of SHIB fell almost 10% in a matter of hours and this seemed to have spilled over to Dogecoin. Dogecoin, being a meme coin and the largest competitor for Shiba Inu, was expected to rally if SHIB had gone up as a result of the Shibarium launch. There is also the issue of competition expected between Dogechain and Shibarium, further fueling this correlation.
The problem with such correlations is that they tend to follow the same negative, as well as positive, path. Given this, when the price of Shiba Inu started to fall, Dogecoin followed suit with the expectations that both of these assets would go in the same direction.
Additionally, DOGE, being one of the top 10 largest-crypto in the space, often tracks the performance of Bitcoin quite closely. So as Bitcoin declined off the back of the FOMC meeting, Dogecoin was hit with a double-decker bus, plunging it deep into the red territory.
Can DOGE Price Recover From Here?
It is not all bad news for Dogecoin according to crypto analyst "Tony The Bull." In a recent analysis, he points out that DOGE had tagged the 1-month parabolic SAR. Now, this is notable because the last time the meme coin touched this level was back in 2021.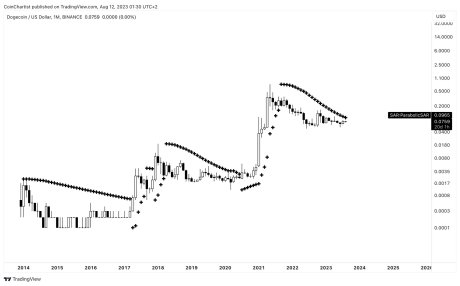 The result of this was that DOGE's price went from $0.0018 to over $0.7. This translated to an over 24,000% increase at the time. So it stands to reason that if the altcoin is tagging this 1M parabolic SAR again, then there could be a rally in the near future.
However, it is unlikely that the price of DOGE will actually rise more than $50 at this level. This is because the crypto market is still in peak bear season while 2021 was peak bull season. Nevertheless, a rally toward $0.09 is not out of the question.